My birthday.
My Mom's birth-giving day.
As I relax in total awe…
Again.
And in this deep gratitude, this message comes for me to share with you.
Provoke your dream life…
Know your brain and the effects of a grateful life perspective
Being in touch with you is like being in touch with me…
As I deeply thank Source for Being alive, I ask you to allow me to share with you what I believe can give you, too, the key to provoking the life of your dreams in a very practical manner.
Let me describe how my chronic state of gratitude has a direct effect on the appearance of events that "bump into me."
When the brain is receiving signals that all is well, as a result of feeling in awe, endorphins are released sending me always into clarity and trust. In this state I feel the Flow guide me into the Glow…
I so want to share with you my experience, so that you, too, can feel the freedom that constant clarity brings to your life… Ahhh..
Now health, wealth and wellbeing will always be in my living room. You can invite them, too!
Let me describe how I see that being "endophinized" provoked the following events to bless the happy life of my dreams.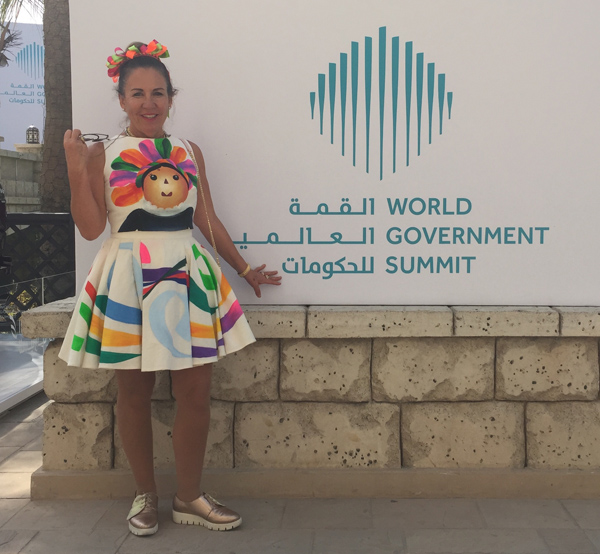 The government summit which enabled me to be inspired by world leaders, feeling first hand, their human side. I witnessed how Dubai is truly acting into implementing happiness in the governments.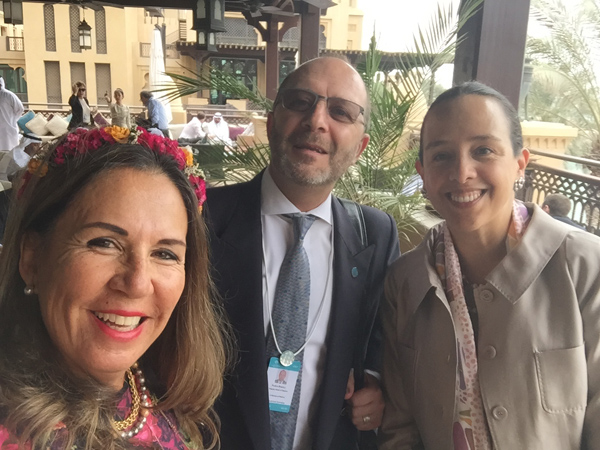 With our Mexican ambassador Francisca.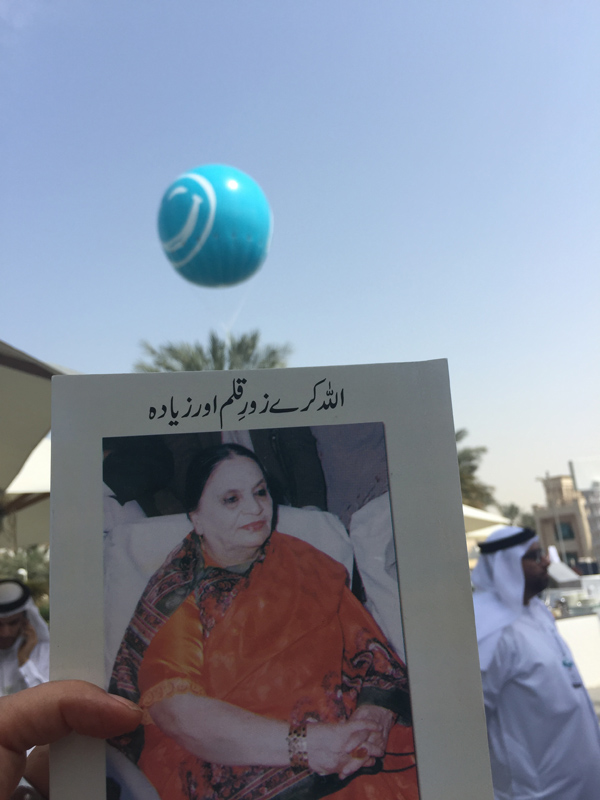 Always blessed by Tariq Nizami's Mom and my Mom in those pivotal times of my life path…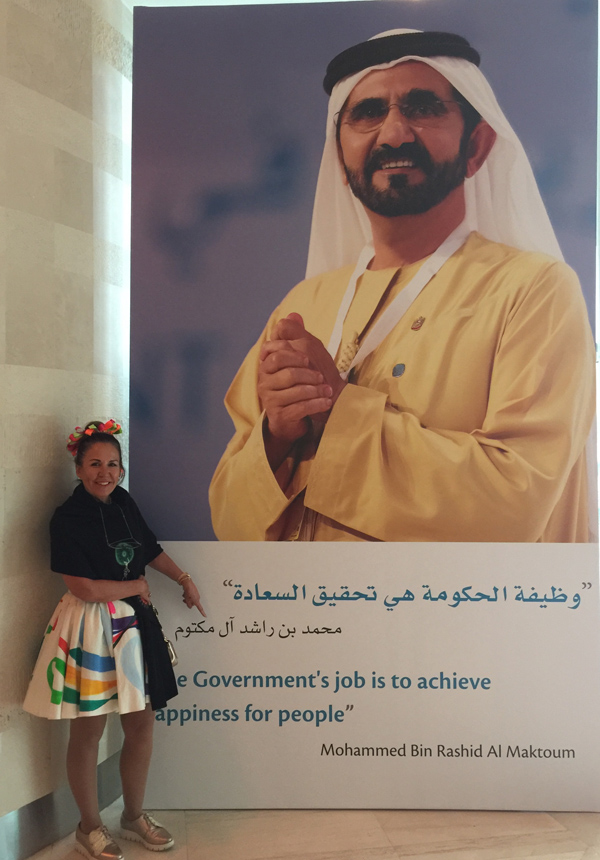 Declared not only in his book but in every single act he takes: our respected Dubai ruler achieving the happiness for the people through applied laws and regulations ensuring the very safe environment we all live in. Ahhhh….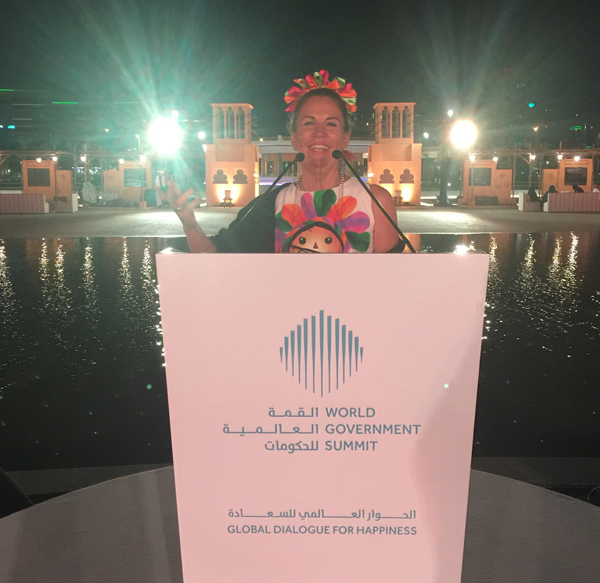 Celebrating a great gala dinner in the presence of the Happiness Prime Minister Ohoud Al Roumi
March: the World Happiness Summit in Miami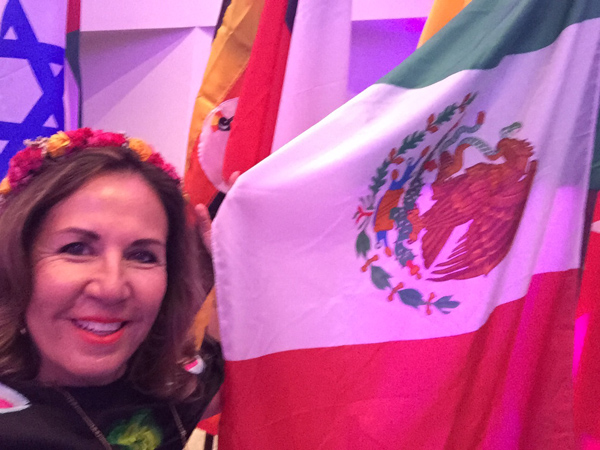 The Government Track in which heads of state shared their experience with Happiness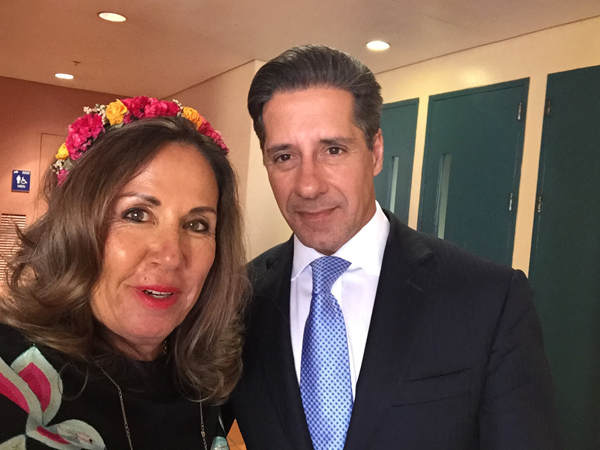 Feeling the effective action from the Miami government leaders towards serving. Alberto M. Carvalho is an educator and the superintendent of  Miami-Dade County Public Schools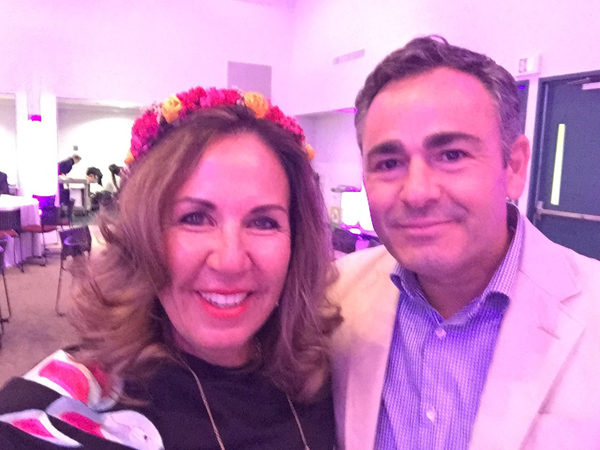 Meeting Luis Gallardo, founder of the World Happiness Summit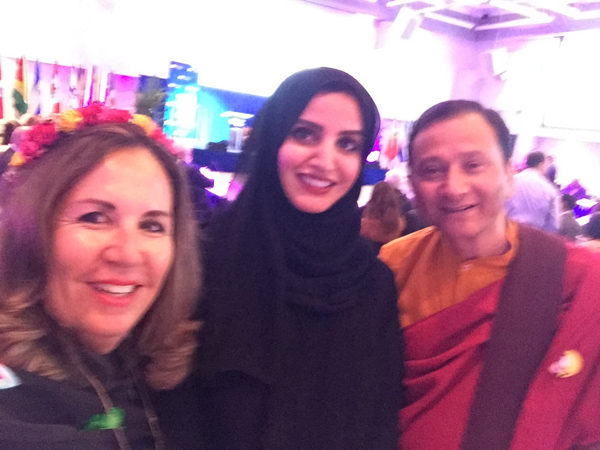 Meeting Aysha Director of Smart Dubai Office and our lovely Dr. Saamdu, http://upliftconnect.com/bhutans-remarkable-recipe-for-happiness/ head of the GNH institute (gross national happiness) that measures the growth of Bhutan by the happiness of its people.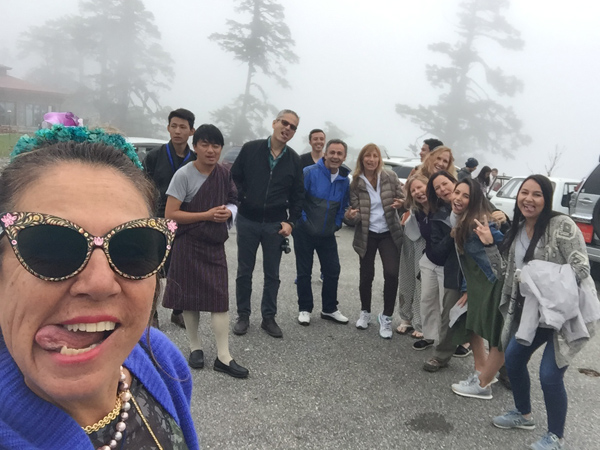 12 of us, all people who were part of the World Happiness Summit came as a consequence of that event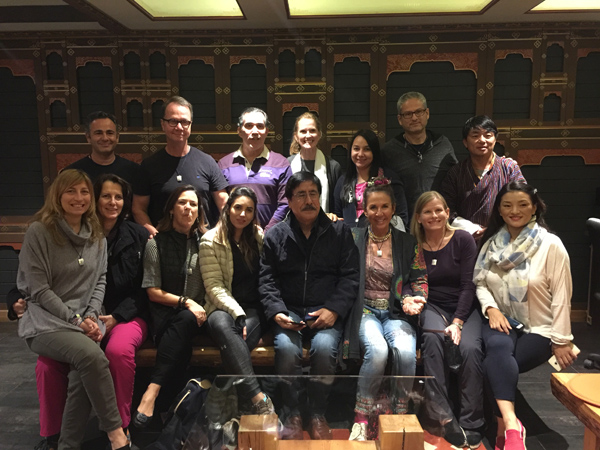 Here with the ex-ambassador of Bhutan to the UN who presented the GNH essence and got approved by unanimity as a model that should be adopted by all nations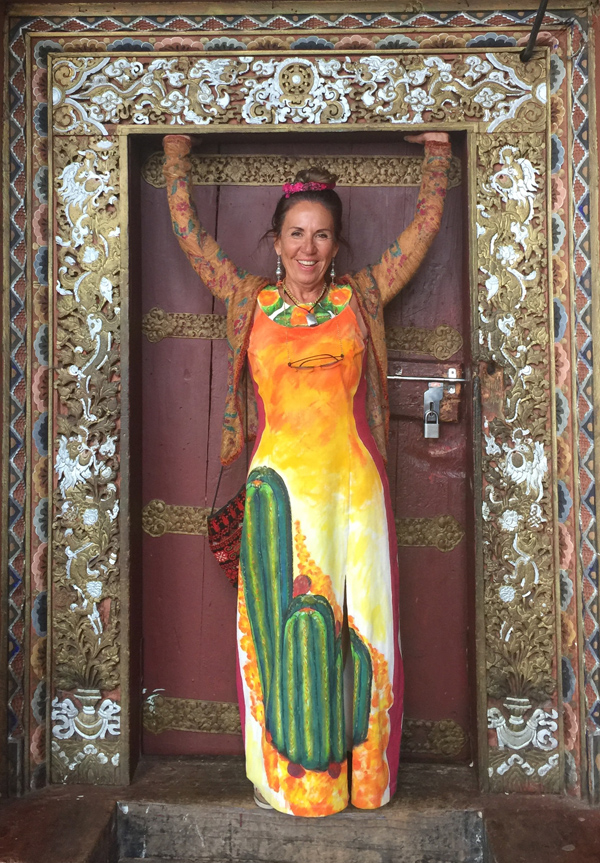 Feeling the roots of Mother Earth caress me…At one of the many sacred spots wearing the sacred art of my Mexican artisans and painters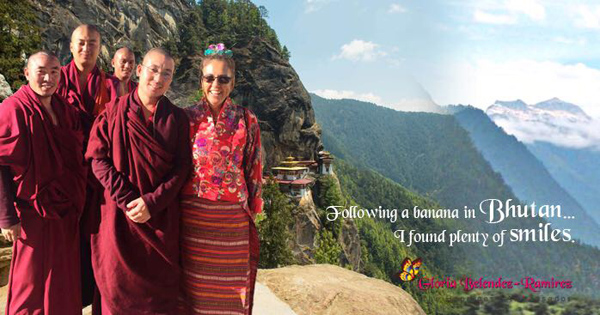 As I described in my past blog, living in trust, compassion and simplicity brings you to a very high consciousness of just how beautiful life is…flowing and glowing naturally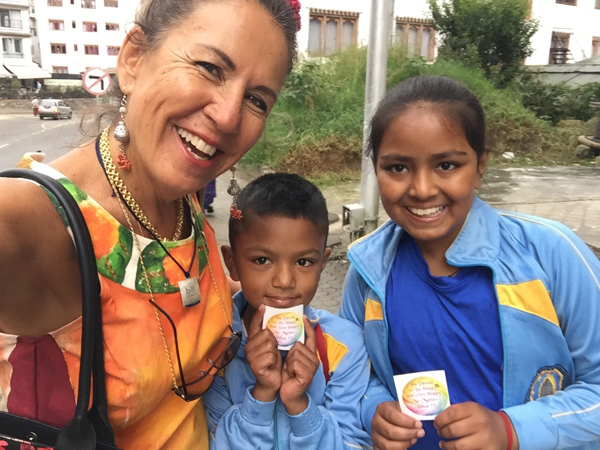 Children. Our best friends, teaching us at every smile just how beautiful we all are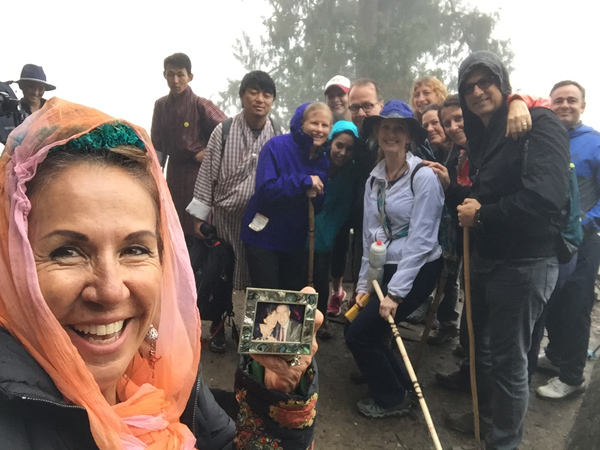 Hiking while bringing the image of my spouse in total joy causes endorphins to happinize my every moment in a very contagious manner…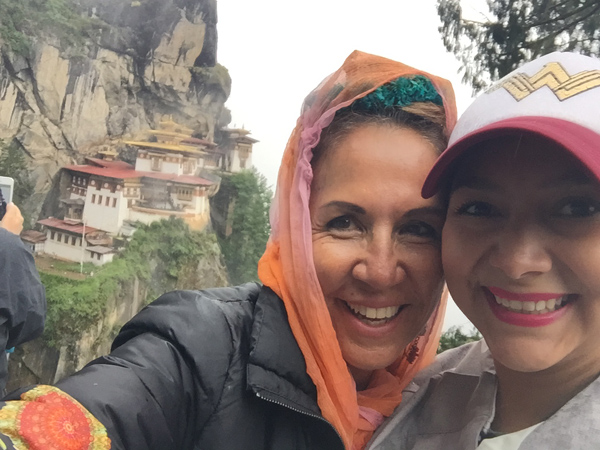 Reaching theThe Tiger's Nest together with others in a feeling of  deep team work causes a feeling of joy and togetherness which "glues" us all together … endorphins continue to gush into my system- and by contagion, not only with my group but anyone else participating in the experience…
Watch the video of our 10 day trip and feel how the endorphin production will also affect you!
Really? Awarded?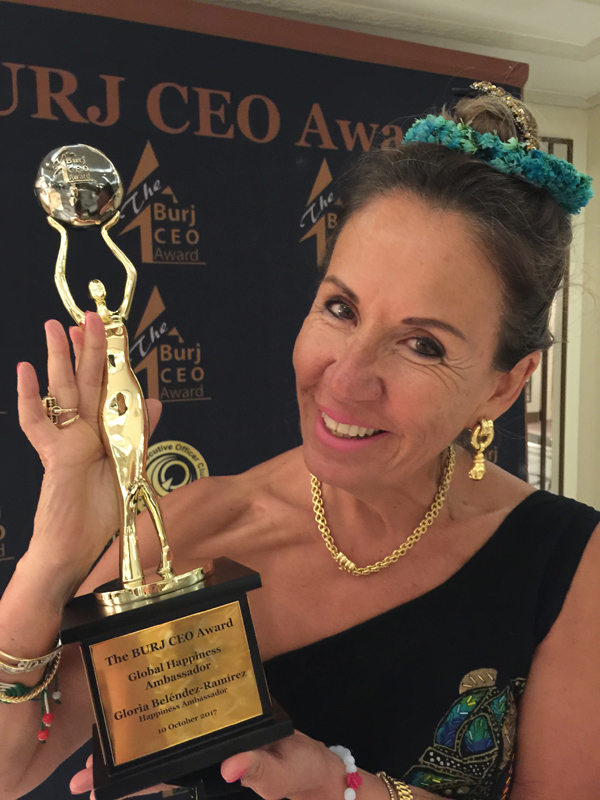 Officially contagious! A first-ever Global Happiness Ambassador Burj CEO Award to be granted, indicating that Happiness has finally become a center stage element in our business community as well!
Amazed…together we happinize better!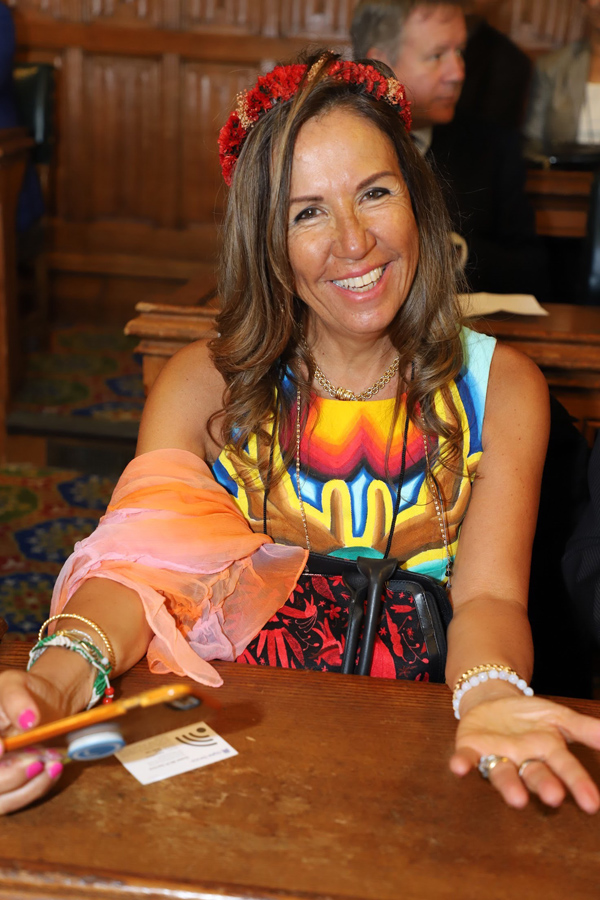 In the House of Lords in London feeling history being made… how did this happen? And the gratitude I feel because of the privilege of being here enhances the communication with the people around me, creating always more, provoking events towards what my dreams are: to happnize together!
The CEO Burj Awards…
…an event in which the we-in-me was bestowed with the Global Happiness Ambassador Award… an actual tool for the we-in-me to take more impulse and plant more and more happiness bombs for people to remember just how beautiful we all are…
21.10.17 My Birthday…now…in Dubai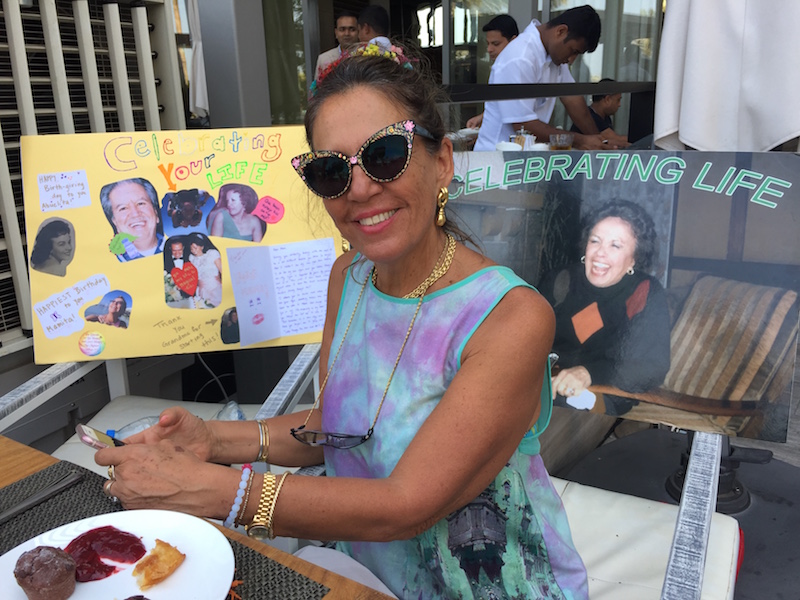 Celebrating my Mom in my birthday!
As I sit on the sands of the JBR beach in Dubai, I am, in vertical time, transported to that precise day in which in 2013 I was being interviewed by the Dubai One TV channel, presenting the happiest book that wrote me: Spiritual Orgasms, vivid encounters in the Now... which gave me a fluid entrance into the world of writers; in Dubai, The Center of the Now…
At that time, the Literary Festival was taking place (of course, by Godcidence) so I had the opportunity to meet and laugh with known writers that would be sharing with me their author-experiences… making me realize that, I too, was an author.
By Godcidence.
While admiring the sunset over the beautiful waters of the Dubai Creek  the last day of the event, overwhelmed with gratitude, I sat on the grass just outside the venue, the beautiful Intercontinental Hotel in Festival City. I felt all my body shiver, my heart beating in very slow motion as my eyes scanned the horizon: a range of skyscrapers that were not there only a decade ago testifying the greatness of the human race.
Again, in vertical time, I actually witnessed a moment that had happened almost five decades ago: the moment in which HH (and I mean spontaneous and divinely appointed by Source highness) Sheikh Zayed united the emirates exclaiming from the deepest depth of his heart:
"IF IT IS GOOD FOR MY PEOPLE IT IS GOOD FOR ME!!"
Ahhhh… by now my whole body was shivering and tears of creativity were blurring my vision…
My eyes were posed on a street cleaner who was keeping the public railing outside the venue immaculately clean. With intense appreciation for this man (who represents more than 50% of the population of Dubai) who had left his family, his country, his life to come and serve this country even under the scorching rays of the hot Middle East sun, my heart continued to beat in even slower motion.
Again, in this state of intense awe, I heard the message within me clearly proclaimed:
"START A KEEP ON KEEPING ON CAMPAIGN!"
Baffled 😕 and not knowing what to feel, I whispered from the deepest depth of my soul: "…I, I can't even find my keys all the time, how am I to start a campaign?"
The Voice didn't care a bit about my fear… I just again felt the command continue:
"START IT FROM DUBAI TO THE WORLD!"
Following that command, I returned to Lebanon where my kids were being educated with the urge to walk in that direction.
This lead to the birth of www.happiestgloria.com in the vests of the happiness ambassador (that would be me ), the audience being CEO's since they are parents who have the power to bleed their happiness into their staff.
In vertical time, again, with the eternal support of my spouse Ibrahim, just several months later, guided by the love-for-Dubai that my friend-engineer Fadwa Mohanna splashed upon me and by the invitation of TV producer Mai Khalifah to present the book that wrote me Spiritual Orgasms, Vivid encounters in the Now, I ended up having a pied-a-terre in the beachfront of JBR, the new Dubai.
Just a few days after having settled in yet another home in the world, Erica Castioni, a dear Italian friend said:
"Gloria, I want you to meet Dr. Nizami. He is the founder of the CEO Clubs in Dubai."
Of course, at that time I didn't properly realize what that meant: my declared proclamation "my audience is the CEO's" brought me here…
Speaking with Dr. Tariq the next day I felt like I was being transported like magic to his childhood as I asked him about his Mom and Dad. I felt the firm integrity of his father and the deep kindness of his mother embrace his childhood… and me!
In a magical floating manner, I literally was transported to the inner corners of Tariq's formation. And now, in vertical time, we were all here and now…
"Dr. Tariq, I believe it would be a great thing if you invited Gloria to your up-coming  Africa-Middle East-Asia Women Summit & Exhibition in the Atlantis Hotel "
The sweet voice of Erica woke me up bringing me back to my body.
Surprised that I wasn't surprised to hear those words, the natural consequence came along, flowing like the river flows into the sea.
"Yes! That would be my honor! Would you like to be a panelist?"
And that is how just some days after I had opened my Dubai home 🏡 I got invited to speak about the power of happiness in the iconic venue, the Atlantis Hotel in the Palm.
Today is my birthday. 63 years ago I was brought to the world by the solid clarity that my Mom Gloria grew up in:
We are here to celebrate life no matter what!
…is what my dearest Grandmother Victoria had taught my Mom Gloria.
In spite of being a single mom with tree toddlers, illiterate and financially limited, my grandmother Victoria never doubted that the kindest was the fittest.
Even if my Mom had at age 8 only one used coat that had been given to her by the kindness of others, my grandma gave that same coat to another girl who was less fortunate, teaching my Mom by example the pillars that truly matter and will, with no doubt, guide the person who adopts them into health, wealth and wellbeing.
My grandma was, at that precise time, in vertical time, giving me, her granddaughter, born some twenty-one years after giving away that coat, the paved path on which I walk today.
Ahhhh… Yes, compassion, kindness, gratitude, the pillars of a happy life.
In my next series of books "My Dreams Are Not Negotiable" I will relate how my love for life, the gratitude I live in for being able to breathe, to digest, to see, to hear, to BE, makes my every single breath a fiesta in which 50 trillion cells rejoice, doing their jobs in such an immaculate harmony and team-work that Mrs. Health, Mrs. Wealth and Family Wellbeing are always, always in my living room.
Now it is super clear to me where the key to being able to open the door to constant happiness is.
It is all in the awareness of asking myself at all times, especially in times of deep challenge:
"What is going on in my brain?"
I have understood and come to realize that my body, the divine gift given to me by Source to navigate as an Earthling in this beautiful Fiesta called Life, is my only and Divine belonging. It is my absolute Priority to take care of it sublimely, so that it can navigate as an Earthling in all its power and creativity, being able to recognize the obstacles on my way as lessons that will let me understand more and more just how miraculous we all are.
You are part of the we in me.
I am part of the we in you.
Together we are better.
Just are.
Just be.
The Inner Technology
Now let us focus on what my brain is doing and how it got me to provoke the flow that brought me here and now.
As I arrived at the venue where the Global Dialogue for Happiness was, I did so with great admiration for Dubai, knowing that I would be meeting extraordinary happinizers in a perfectly organized event.
Eager to meet those persons and develop new relations in which We would be weaving new fantastic alliances, my brain was at all times producing endorphins as I was in that mode of ecstasy wanting to weave more. In awe. In respect for the organizers.
My brain was in pure endorphinzing mode, creating the clarity I needed to bump into those world leaders and ask the appropriate questions and listen openly allowing myself to receive the suitable answers. Now I had a fuller network with global influencers with whom I had had a laugh as well as a sparkle of wow!
Forty-five days later the World Happiness Summit bumped into me. The endorphinzation I had gone through in the previous event brought me to follow people into this event: I had met the director of Smart Dubai Office Mrs. Aysha Bin Bisr. Knowing that they were platinum sponsors at the WOHASU, I decided to go to Miami and continue what the prior endorphinzation had started.
In this state of expansion, I allowed all my body to be open to just flowing, and this is how I became very close to Dr. Saamdu, director of the Gross National Happiness institute of Bhutan.
Mrs. Aisha was also present with her great smile and visionary thoughts on how to make the Dubai residents happy. Along came of course WOHASU founder Luis Gallardo, whose absolute sense of service is so contagious that one can only feel enlightened.
The endorphinzation continues and so does my body evolution. Ahhhh. Feeling always more and more at peace, and flowing as I would glow, my health was as stable as ever and my mood in constant celebration mode…
Just some months later, being One with Luis Gallardo's flowing-just-being, I joined him in Bhutan with other 10 persons that had joined the WOHASU.
Now we are in Bhutan in a quest to learn from a tiny country that believes in measuring its growth by the happiness of its people.
So my eternally through-grateful-thoughts-always-endorphined-body is the responsible for me to only see the bright side of everything, living in a world of extraordinariness.
Que pinche vidon!!!
What a damn great life!!
As the sun is about to rise this 21.10.17, in an intense celebration mode, I thank my sweetest Mother for having given birth to me 63 years ago…singing "Happy birth-giving-Day" to her and to all the Moms in the world. Including yours.
And as I finish sharing my soul in my iPhone Notes, I pick my Osho card of the day…
It couldn't have been more appropriate: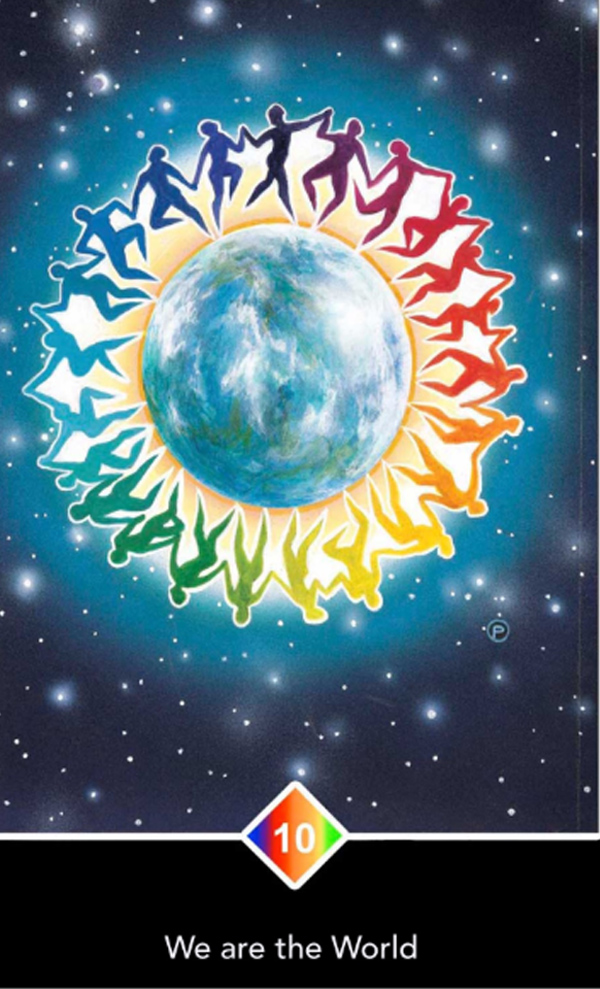 Humanity is depicted here as a rainbow of beings, dancing around the mandala of the earth with their hands joined together in joy and gratitude for the gift of life.
This card represents a time of communication, of sharing the riches that each of us brings to the whole.
There is no clinging here, no grasping.
It is a circle without fear of feelings of inferiority and superiority.
When we recognize the common source of our humanity, the common origins of our dreams and longings, our hopes and fears, we are able to see that we are all joined together in the great miracle of existence.
When we can combine our tremendous inner wealth to create a treasure of love and wisdom that is available to all, we are linked together in the exquisite pattern of eternal creation.
When thousands and thousands of people around the earth are celebrating, singing, dancing, ecstatic, drunk with the divine, there is no possibility of any global suicide.
With such festivity and with such laughter, with such sanity and health, with such naturalness and spontaneity, how can there be a war?…
Life has been given to you to create, and to rejoice, and to celebrate.
When you cry and weep, when you are miserable, you are alone.
When you celebrate, the whole existence participates with you.
Only in celebration do we meet the ultimate, the eternal.
Only in celebration do we go beyond the circle of birth and death.
Happiest birth-giving day my sweet Mom!
Yes indeed, death is just life in disguise.
Celebrating your life dear Mom Gloria guarantees my health, wealth and wellbeing…
Let us see what today will enfold dear Mom.
Whatever it will be it is already great.
In a nutshell: How to provoke your happiness bubble
One provokes the own reality. We all live in bubbles created by the way we see circumstances, which is what dictates the chemical activity in our brain: gratitude will send us into a state of expansion through kind, compassionate, joyful thoughts while fear will send us into a state of contraction through fearful, confused, intolerant thoughts.
The following acts will most certainly guide you towards the creation of your happy bubble:
Appreciating everything around you
Noticing the expansive state of being while in appreciation mode provoking the Ahhhh…Wow…
Associating one "lucky" event with the next one as an effect and consequence of the law of attraction
Continuing to connect the dots, realising how one event brings the next one:

If in a good mood, one patiently listens to others creating an atmosphere of trust and safety which enhances relations and brings successful creativity in a win-win manner
If in a bad mood, one tends not to listen to others creating a tense atmosphere that provokes unrest and misunderstandings that eventually lead to rupture of relationships

Feeding, moving and sleeping your body with care and gratitude for all the service it gives you
Going to sleep in a quiet manner, appreciating the events in your day, thanking all the people that contributed to your smile.
Getting up early, thanking your body for yet another day of unconditional service to you
Performing random acts of kindness
Listening to others with compassion, and allowing for creativity to act its wonder
Anything that makes you feel good
What do you choose?
Share with us by adding your comments here under. Remember that together we happinize better!
Next appointment: November 15 from Mexico!
The next event that was provoked by those mentioned above is already on the way!
We will celebrate in my beloved Villas Xichu Happiness Holistic Center  in San Miguel de Allende, Guanajuato, the Happiness Fest, founded by Luis Gallardo, Founder also of WOHASU (World Happiness Summit).
Everything I live is related, like a necklace of pearls of happiness … and the more I choose to be happy, the happier I am, and the more contagious I am … attentive! You're already smiling …. ohh ohhh …
Note it in your calendar! March 17 and 18, 2018, come celebrate life with us, no matter what!
Recording my feelings at sunrise…celebrating life…