Welcome back, this time in London!
Dear friends happy and not so happy,
With another session of The Language of a Happy Life: What is going on in my brain?
This time I have decided to share with you an amazing experience that has happened to me because I am almost always giving my brain pleasant, kind and happy images through my thoughts based on gratitude. These positive images have provoked the following event which I share with two purposes:
To show them how to be "endorinated" through proactive images provokes proactive events
To put in your hands the possibility of creating ideal situations parallel to your dreams
This time I'm just sharing what happened to me and how these kinds of events can happen to all of us if only we ALLOW them, just by streaming to the rhythm of the following truth:
Everyone is good and everything is perfect like this…
The message I want to share with you is that it's really how you see life, and not what's happening on it, which creates your reality…
Tu you choose?
Here I go … with this incredible event in which happiness in me has been awarded in London, England to 300 people from the world of business and politics. Tonight 25 people were called to the podium to celebrate the positive influence of their actions, creating wages and manifesting dreams throughout their careers.
Awarded?
Yesterday I have awarded
Today I'm still astonished
Why is a prize awarded
Just being with the me in touch?
When my name was called
Among that mighty crowd
Young people and not so much
I felt my heart ❤️ a rose flower…
"What? It's not true!
What's going on?
My eyes shone "It's fake!"
Y Sarah ordered: On stage, passing!
In deep amazement
Not knowing what to do
I took the stage
Just do.
"Oh mom, O dad
What do I do now?
I feel so happily crazy
You are the ones on stage now! "
While the smiles of the galardonetors
They welcome me on stage.
My brain completely endorphined
He explodes gratefully, like a sage.
While my hands receive the golden trophy
That much been awarded before me received,
I feel your joy taimbien in this trophy
In fact we are all One, without buts!
The Burj Awards were created
For Tariq Nizami's intention to appreciate
To all those noble people who are qualified
As great collaborators who surprise our society.
Whether it's bankers or artists,
Government officials 👮 or business owners,
For the last 90 minutes I have applauded
Admiring all that had been praised.
"Global Happiness Ambassador Award"
That's what my being is listening to now!
But … what's there to reward
By know that there is nothing to know?
My body touches the trophy
I know how much effort was made to create it:
Months and months of dedication.
To take tonight to their summit
Tariq Nizami and her dreams
To create a platform to invite
To businessmen and women
Trading and creating wages and smiles.
The Ceoclubs Network
based in Dubai,
An emirate that was founded
On the pillars of service to all equally.
With his mother and father
Witnessing the faith
Along with his wife Sarah Dong who can't alter
His deep look of love-for-all.
This award I receive
For your ancestors and mine,
Who has always knitted
This fabric that shines with great brilliance.
About all the people who support us
Jenn, Jack, Cherisse and many more
Thank you, thank you, thank you
Ceoclubs now I love you so much more!
And what it's like to love
If not create incessantly
New smiles, in one mode:
Together we add, you see too, you are part of this train!
What happened? Figuring out…
Oh, my God!
I don't remember a time when I was more surprised than today.
When I flew to London from Dubai to support Sarah Dong, CEO of CeoClubs and her founder Dr. Tariq Nizami, my heart was eager to create new experiences together con this lovely couple I admire so much, feeling great happiness for being a member of this Club!
I left Dubai at 1am with a great desire to be part of the immense efforts-to-appreciate that this event represents, the CEO Clubs Burj Awards. Svina, my Chinese daughter would meet me at Heathrow to live this experience with me.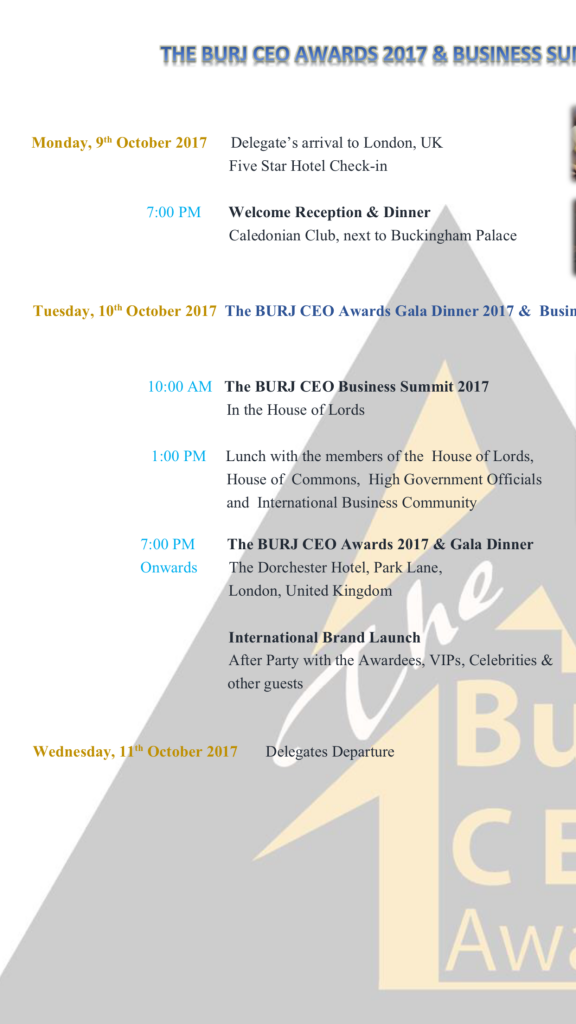 The agenda, which was written on paper, turned out to be a million times more than its description.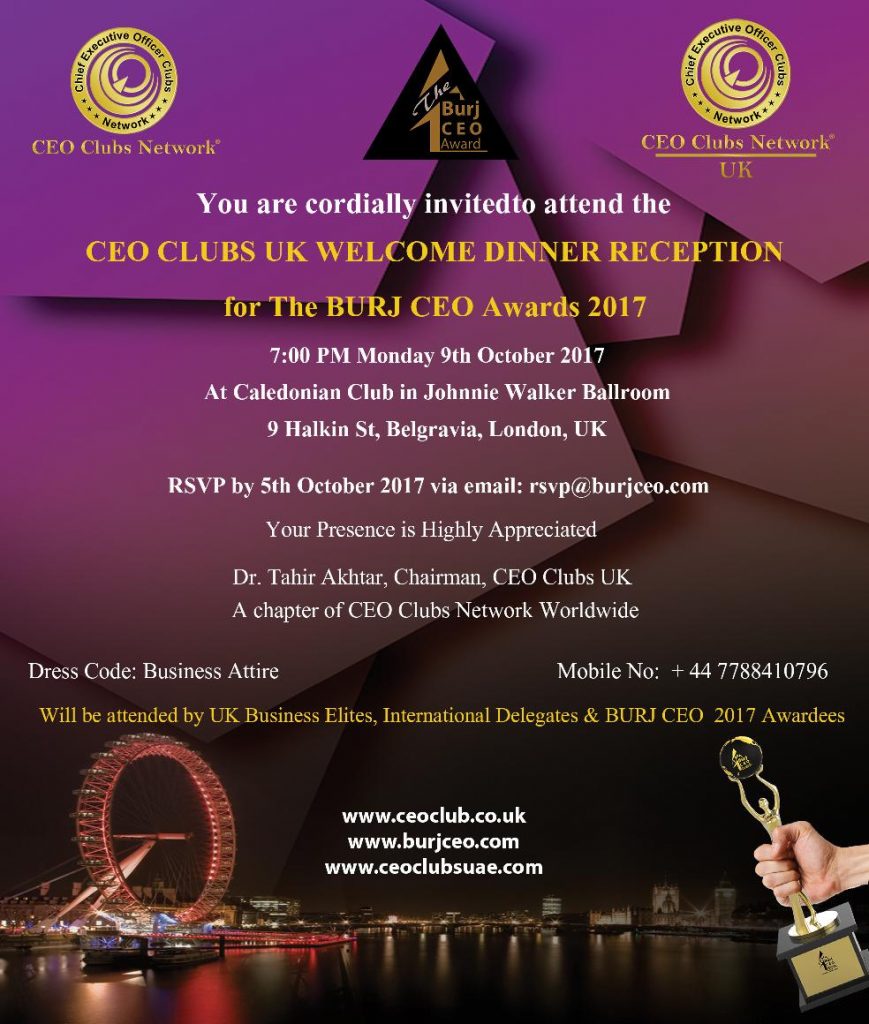 Before I sleep, with my heart still full of joy, I send my blessings to all preparing this niche, thanking all those people who make up my happiness:
to my dear husband Ibrahim, to whom I dedicate this award;
a Mrs. Nizami, Tariq's mother, for being always present in my life through him;
to my parents and friends;
to all those craftsmen who create art in every dress that port, making fashion enrich each of my life events;
to all those who have smiled and collaborated on my current understanding of life:
We are all One. You, my friend, my friend, are getting this award with me. Thank you!
I feel blessed, immensely blessed by this opportunity to share with the world the joy that is to incite others to choose happiness, causing one's health, wealth and well-being.
9 October
Two days before:
Our hotel…
Our host Dr. Tariq Nizami! Yey!!
Celebrating the Lady Cleansing while we eat…
What an event! Instead of 60, 80 people showed up …
Sandi Rich colleague and friend, financial advisor of the heart…
An event in which first and foremost, we are all as members of a large family, celebrating together CEO Clubs, a platform on which we trade, buy and sell, knowing that we are creating wages and manifesting dreams… what a blessing!
10 October 2017
Surprise!! The next morning
And here we are, selected to enter! Some of the ladies in our group
A group of approximately 70 of us … wow CEO Clubs. See what you've done? Participants from all over the world together, creating…
Together we are better! With CEO Director Sarah Dong, my "twin sister." Why twins? Because we feel the same way, driven by the Heart…
Sindashi, Art made in fashion by Mexican artisans. You're wherever you go … and your 150 painters, embroidery and sewers are being honored as we speak.
Inside the House of The Ones
The English Parliament. And we're here! Part of the decision-making history. Thank you CEO Clubs!
From China to Pakistan, from Namibia to the US, presidents of companies who came to celebrate the founding of the UK's CEO clubs, also nominated for awards…
Again more food … how privileged we are!
Sommelier del restorán de la Casa de los Lores
Delegations of China, Namibia, USA, Spain, Greece, Mexico, India, Pakistan, Dubai, all providing their granite support to the community. How fun!
Y Ibrahim, my admired life partner, you travel with me in this frame… until tomorrow!
Together we are better… admire your spouse…
The London Eye, an immense ferris wheel whose cabins house up to 20 people…
An even larger one is being built in Dubai than this, the largest in the world!
Mohammed, I can feel the presence of your honorable parents in every move, in every word you say. Namaste… I honor the light on ti. You are an excellent ambassador of Dubai.
And the rhythm continues! Modern and non-so-modern become a unit. The Past and the Future together, in linear time, create the present. We only have the NOW!
What's your now? Is it based on grateful thoughts or fearful thoughts?
It's Your Choice…
Action!
Sponsored by H.E. Sheikh Juma Bin Maktoum Juma Al Maktoum, a member of the Dubai royal family, the Dr. Tariq Nizami, founder of the Ceoclubs network, presented the CEO Burj Awards to community and innovative enhancers.
href="https://www.evernote.com/OutboundRedirect.action?dest=https%3A%2F%2Fuk.search.yahoo.com%2Fyhs%2Fsearch%3Fhspart%3Dtightrope%26hsimp%3Dyhs-tig4%26type%3D58041_070317%26p%3DBaroness%2BCouttie.">Baronesa Couttie

You that you've decided? 🙂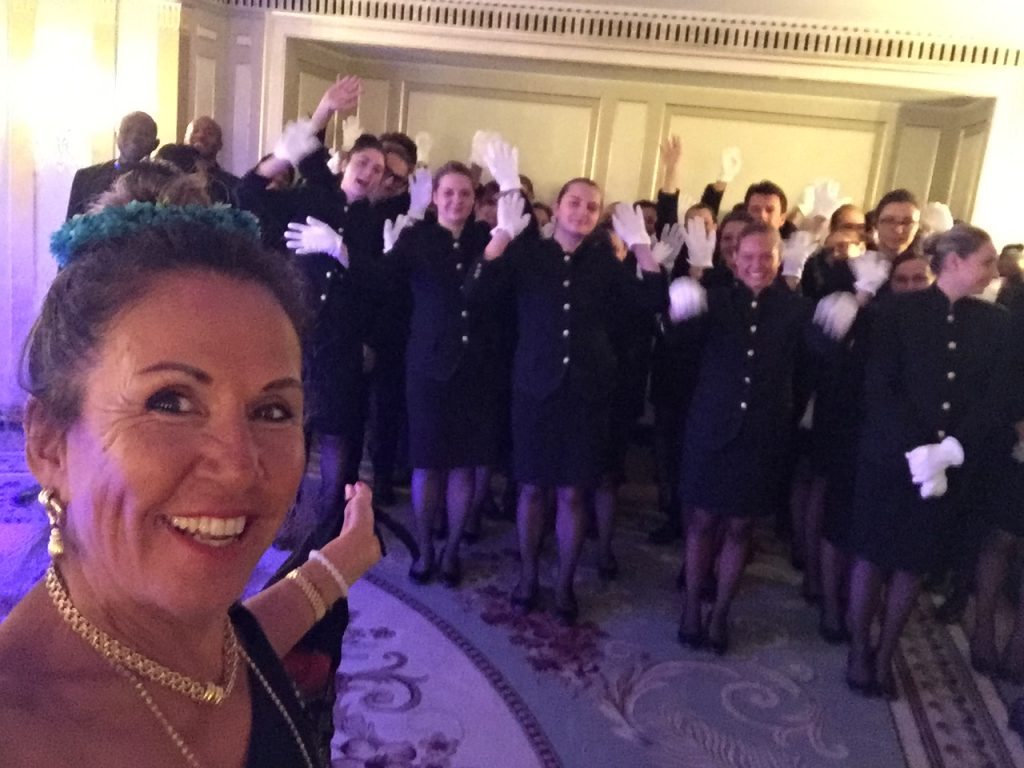 Waiters looking forward to happy service
If only I had suspected it…

And the surprise begins … Dr. Tariq is about to announce the award of dozens of awards in the presence of H.H. Sheikh Juma Bin Maktoum Juma Al Maktoum of the Royal Family of Dubai and patron of Ceo Clubs Network.
.
It's not possible! My name is being splashed all over the room!!
I hear super incredulous with almost tears in my eyes:
"Gloria BELENDEZ-RAMIREZ World Happiness Ambassador Award !!!"
That would be me, my mother's daughter and my father's daughter!!
I can't believe it! I don't know what to say… then I'd better sing!!:
Be happy and stay happy, no matter what…. PASE LOO QUEE PASEEEE…
And my heart beats intensely, feeling my ancestors… THANK GOD MY !!! Thank God…
And on the podium, they ask me to talk.
"I don't know what to say. All I know is that I am extremely happy and that I am very contagious."
And I throw my imaginary wand to the audience:
WHOOOOSHHH!
I hear myself sending the magic of happiness through the microphone as I throw my magic wand over the 300 diners.
Ahhhh.
Cheat, my twin sister Sarah! You kept it very well!!!
And so the President of the Republic of Namibia and Sarah, we all become One in peace, health, wealth and well-being. We know that together we are better!
TOGETHER WE ARE BETTER!
All CEO winners, including the charming Dubai Sandi Rich
My adorable Baoli aka Svina, director of China television in Dubai, which is part of the joy of Mom Gloria (which would be me …)
A dream I appreciate and assume full responsibility.
Help me with this explosion of happiness and continue to choose happiness no matter what!
We we leave TOGETHER a happy cloak that will cover wars and hatred, transforming them into peace and harmony…
Thank you!
Shukran our Founder Ceoclubs Dr. Tariq Nizami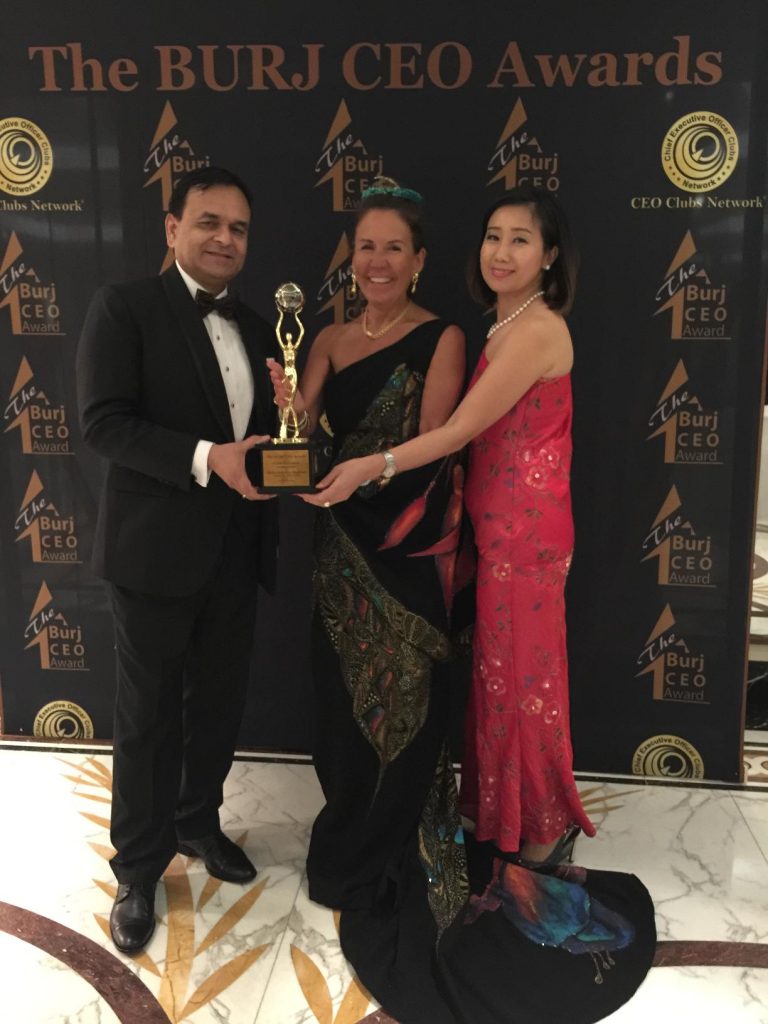 Thank you forever … Sarah and Tariq
Enjoy every event, no matter how small it is, as something extraordinary?
Or are you choosing to live in a state of stress, letting your brain create that there is a constant emergency in your life, causing the production of stress hormone to help you defend yourself or undertake the leak?
When know that everything is perfect as it is and that everyone is good, there is nothing to escape or to defend yourself from…
Appreciate your eyes that they are reading this, appreciate to your heart that it is pumping in your blood the oxygen that your lungs have filtered into your divine body … and praise, only praise this beautiful life, sailing in the Sea of Gratitude in the Ship of Gentile, Compassion and Tolerance…
Now, you've been galardonead@ too! This trophy belongs to all of us, happy, simply celebrating life no matter what…
Namaste
See you the First of November!
See you next November 1, the day of the Dead in many countries, with more endorfinacion!
Share with us your happy and non-so-happy experiences and comments! Remember that we are weaving together this universal mantle, on the road to world peace…
Just add your comment below.
A thousand thanks and so far!