"This book, who 'me wrote' and was published on 7.11.12 will be published in Spanish in August. On August 4th to be precise, in the company of the "godfather" Luifer, who will arrive from Puerto Rico…" -I told myself one morning in April this year.
I saw this visualization come true. There was joy everywhere, my parents from my bowels enjoyed the energy so lively that this book attracted. Ahhh… What happiness…
I've been viewing this for days and days. Until the five senses were already part of that reality, and my sixth sense kept everything well amalgamated.
Leave this to God and the Universe. I had already planted the seed. Now the Universe would take care of the rest.
And that's how I scheduled my summer trip. I would go to Mexico from 26.6 to 8.8; the 10.8 we would take a boat in Barcelona. On 22.8 everyone would come home and I would stay in Barcelona until 25.8 presenting the book in Spanish that would have been published in Mexico.
30.7 arrives and I still don't even see the lights of any editor. And Luifer confirms to me that he won't be able to come. And I'm quiet because I know everything's perfect as it is.
I leave Mexico for Barcelona without the book but with complete certitude that "something will happen in Spain".
And what happens in Spain? On 23.8 I met Miguel Celades Rex, who was presented to me by phone by Francesca, a girl I had met on a previous trip to Barcelona. And this is how 23.8 Miguel pulls the strings with his magic and:
-on 2.9.13 Didot publishes Spiritual Orgasms in Spanish, in a Spain that is on vacation!
– Miguel de Ciencia y Espíritu's team (thank you Ruth, Kassandra, Virginia, Nuria) makes it possible for me to give a lecture Decide to Be Happy and Keep Happy PASS WHAT HAPPENS at the 4-8.9 Earth Tribute event in Montserrat televised by Mindalia TV.
-Roberto Garrido and Montse Ayza (thank you dear FAMILY…) produce a video presentation of the book…
As Paulo Cohelo says in El Alchemist, 'the forces of the Universe conjure to manifest what you visualize with unwavering faith'.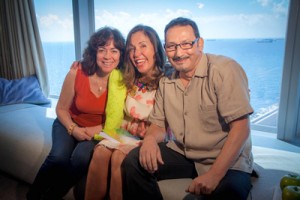 www.happiestgloria.com it wasn't really created, she was the one who created this union of forces that come together so that you too decide to accept that there is nothing you cannot be, do or have, if you only have faith.
Dare to provoke your reality!
www.happiestgloria.com invites you to keep walking until you start flying… Together we are more…
Participate by adding your comments, so that you too help us spread this explosion of happiness!